There is never a dull moment in our studios. PC House Productions is launching the newly refurbished Drive Time Happy Hour. From our professional broadcast studios we are producing the Drive Time Happy Hour as a Live Internet show and podcast. As it turns out, the crew of the Drive Time Happy Hour happen know a professional website design company in Ocala…you guessed it, that's us too.
The new website hosts a player embedded on the home page for live shows. When the show is running live on Wednesday evenings between 7-9 PM all you must do it visit drivetimehappyhour.com and click "play". Otherwise, site visitors can either listen to archived shows on the website itself or subscribe to the podcast via one of the many syndicates such as iTunes, Google Play etc…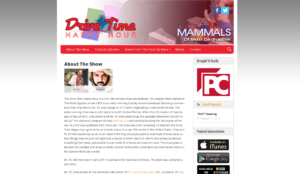 All of your favorite segments will be back, Mammals of Mass Destruction, Things That Are Just Not Right and so forth. Mr. PC will be hosting the show and his sidekick Buddha will try to contain PC's jingoistic attitude with some form of hippie talk. It should be interesting indeed. The show officially launches this Wednesday August 17, 2016. Be sure to participate either by calling in or responding to blog posts.
If you are interested in starting your own podcast or have need to use a professional recording studio drop us a line. We do rent our studio or we can produce your next video, audio or podcast project.
---
This is one of the promotional videos PC House produced for the show.