We never sleep at PC House Productions because we are so busy putting out quality web design and video projects. Here are a few of our recent videos. One is the story about a bride who cannot win the approval of her would be father-in-law and the other is a the story of grit, hard work and sweat. One is a film short and the other is a work out DVD. Both of them were awesome videos.
Let's start with "Bride On The Side". This film was the result of a 72 hour film challenge. PC House Productions was fortunate to assemble a team of brilliant creatives to collaborate on this fantastic project. The Silver Springs International Film Festival's Jump/Cut challenge is one of the most unique experiences that we've had. Particularly when it comes to film. All of the competing teams met together on Thursday at 5 p.m. Each of us drew a card out of a hat. Each card had two genres listed. We had to choose one of the genres and were then given a prop, a line of dialogue, a character name and an actual character that had to be used in the film. We drew "Romantic Comedy" and "Film Noir". We chose "Romantic Comedy". The prop was a small Duke Energy cooler. The line of dialogue was "There is a fine line between black and white". The character name we had to use was Toni Teffaletti. And each film had to include a 'Wedding Planner'.
The entire 5 to 7 minute short film had to be written, shot and produced within 72 hours and turned in Sunday evening at 5 p.m. What a rush. Our team didn't sleep. We were machines. Working tirelessly on the film. We saw the finish line and there was no stopping it. As a result our film won the competition. Best Film, Best Writing, Best Score, Best Acting, Audience Choice, Best Use Of Prop and Best Use Of Line. In the process we created one of the funniest and most unique characters. Thus our consortium of film makers has decided to create a 6 episode series based on our main character 'Toni Teffaletti'.
PC House Productions is proud to present our award winning short film, "Bride On The Side". Let us know what you think.
---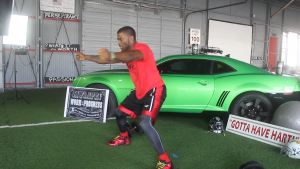 Are you ready for some Hart pumping exercise? Former NFL star Clint Hart has put together some workout routines that are sure to push you to the limit. This DVD is the first in a series of four. "Hart Pump – First Quarter" has it all. Cardio, shoulders, legs, arms, chest, glutes and the whole 100 yards. This gritty and raw workout will keep your heart rate up all week long. With a bonus routine called "Brick Fit" you are sure to tone and stay fit the Clint Hart way.
PC House productions was happy to put this DVD together for Clint. Below is the intro we did to ramp you up. The DVD is for sale here.