Greetings Carbon Based Life Forms! PC House Productions is excited about the many things happening in our video and audio production world as well as feeding our penchant for spicy things.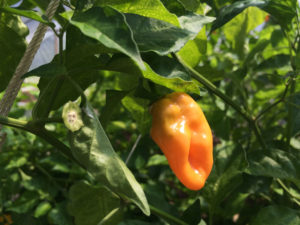 For Starters, down to some hot pepper business. For all of you Hotties out there, EasyPonix has declared that hot pepper season is open for business. You can purchase some of the most tasty peppers in the world right now. All peppers are deliciously fresh. They are selling the original Ghost Pepper chili, Peach Ghost Peppers, Moruga, Butch-T and Douglah scorpions and Chocolate Habanero. These hot peppers are all grown fungicide and pesticide free in a beautiful aquaponics system. Order today and the peppers are harvested and shipped tomorrow.
EasyPonix is also in the process of developing its own hot sauce brand using these exclusive peppers in tandem with other very tasty ingredients. The hot sauce is not ready for consumer purchase as EasyPonix is currently undergoing the arduous process of FDA approval. It has an incredible and unmistakable spicy, sweet, salty and tangy flavor that is sure to have you coming back for more. The brand is called Captain Caliente and is inspired by our hit Television show The Common Chef! In the meantime head over to the EasyPonix website and get your peppers before they are gone!
---
Now, let's talk about our new live Internet show and podcast, the Drive Time Happy Hour. We stumbled out of the gate with a few audio glitches but the show is coming on strong. We are syndicated on podcast aggregates throughout the globe and picking up a stable audience of 13 listeners! If you haven't listened yet it might be worth the time investment as the show offers insightful commentary and funny banter between the two morons, Mr. PC and Buddha. The two delve into heady topics and delightful information in this strange world we live in. It is almost a guarantee that you do not want to miss this coming Wednesday's show (September 28, 2016) as they discuss the historic debate between Trump and Hillary. You can listen live on the website or at Mixlr on Wednesday's from 7 – 9 PM EST.
Show topics wildly range from ancient world religions, modern depictions, historical knowledge to modern day politics and lunacy. Here is our latest show below. Be sure to visit the website for all of our past episodes as well.